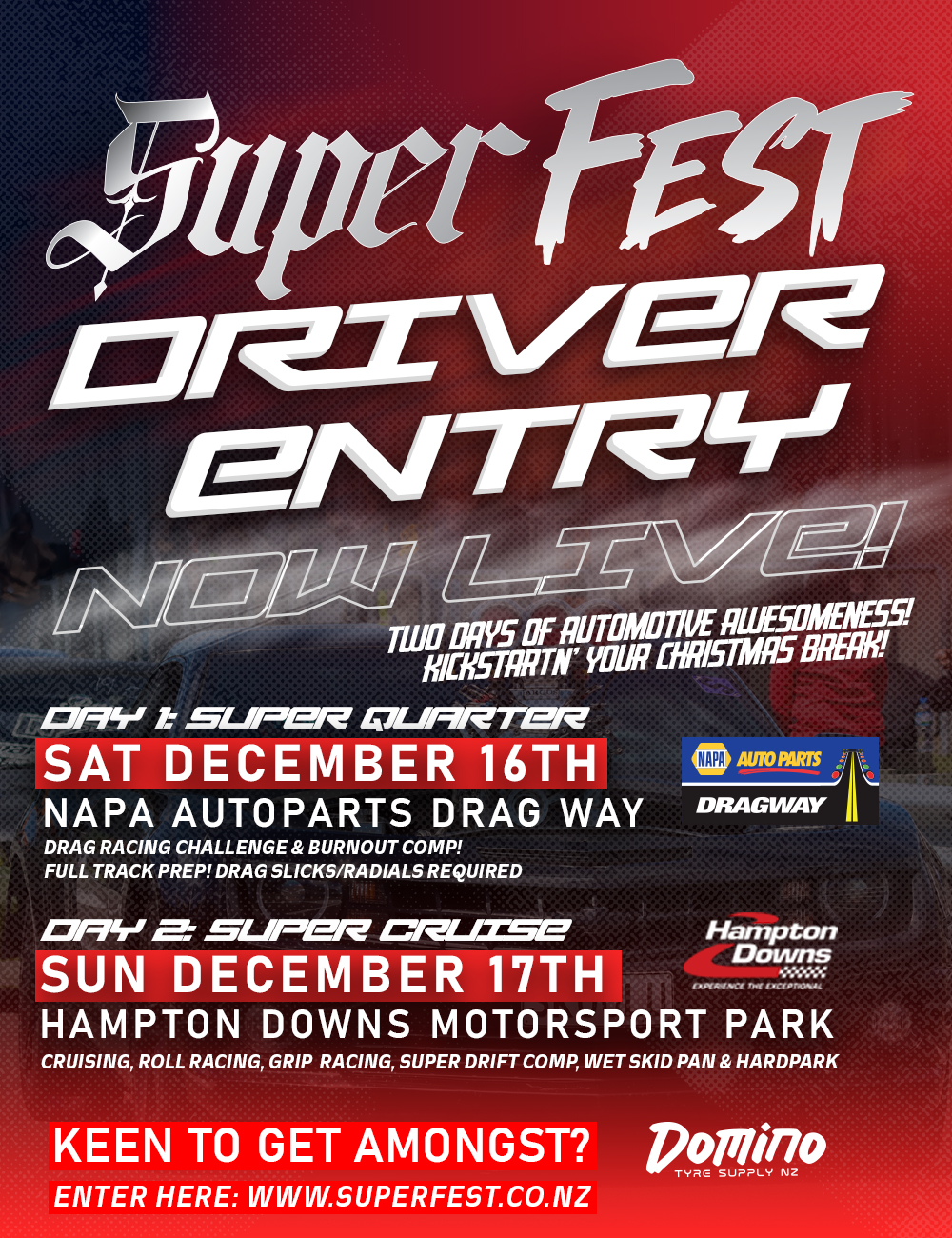 SuperFest is a two day Automotive festival comprising of two main events, organised by the people behind New Zealands Festival of Drift Motorsport. Drift Matsuri & Super Drift NZ.
Over the weekend we will see Drag Racing, Burnouts, Roll Racing, Cruise Sessions, Super Drift NZ Drift Competition, Grip Racing Sessions, MORE Drifting on National Circuit & Show N Shine. Please fill out the driver information below, selecting either both, or individual events you would like to enter.

SuperQuarter 2023
December 16th, NAPA AutoParts DragWay
FULL track prep VHT and all vehicles will be required to run Drag Slicks / Drag Radials on the day.
Open to Drag Cars, Track Cars, Quick V8s, Performance Cars & Imports, Hotrods, Rotaries, Super Cars & Tuned Euro's
In the form you will be asked if you have done any drag racing before (or if you simply want to have some fun down the strip!) and id so, what category you usually race in.
All drivers will have 3x Qualifying Passes available to them in the morning before going into the elimination rounds. Grudge Racing if time permits.

Early Entry: $175 (when paid before November 20th) *Entries Limited*
Late Entry: $200 (where applicable)
Please Note: $25 IHRA License Fee applies if you do not hold one, payable on the day to the track.
Prize Pool: $2000
REGISTER HERE: https://www.superfest.co.nz/pages/superfest-day-1-drag-racing-burnouts
WATCH THIS SPACE FOR CLASS DETAILS CLOSER TO THE DAY AND CHECK OUT THE WEBSITE TO REGISTER / ENTER HERE https://www.superfest.co.nz/pages/super-cruise-event-information
---
Date:

Saturday 16th December 2023

Gates Open:

8am

Racing Starts:

930am

Venue:

NAPA Auto Parts Dragway, Meremere

Contact Details:

https://www.superfest.co.nz/pages/super-cruise-event-information